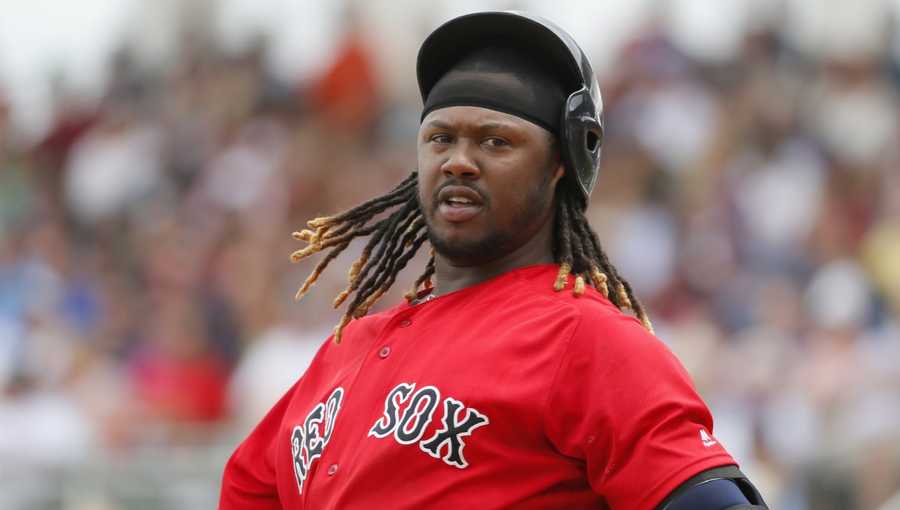 Buh-Bye Hanley
Breaking news…. The Red Sox have designated Hanley Ramirez for assignment. The end of the Hanley era in Boston has finally come. In what seems like a shocking move, the Red Sox move on from Hanley in order to free up a spot on the 40 man roster for Dustin Pedroia. I love this move. Love it. I John Lovitz. I cannot say enough how much I love it.
Say what you want about his play to start the year. He came out in April guns blazing. But since the calendar flipped to May, Ramirez was batting a paltry .163 with an OPS ranking him 30
th
out of 44 qualified first basemen. Even with the down May, Ramirez had a somewhat respectable average given the
downward trend of first basemen in the league
this year. But truthfully, the move is not about the numbers, the statistical numbers at least. The simple fact is that Hanley was going to be due $15 million this year, and was on pace to clear 497 plate appearances which would kick in an additional option costing the Sox $22 million. Clearly the team did not want him on the books again next year, but what team in their right mind is going to trade for an aging headache of a player who is just as likely to ruin a team's chemistry as he is to be productive for that team. Yes, I know the Red Sox have time to trade him, but it is just not happening. No, Ramirez will be released and with it, the collective Red Sox nation can breathe a sigh of relief.
But that is not what makes the move great. I was a huge fan of Ramirez during his time here. When he is engaged, he is worthy of the three hole spot he occupied. When he is off, that's another story. The April and May differences in Hanley's play is the proverbial yin yang. No, the reason this move is great is because it should have a lasting impact on the team. One, it continues Alex Cora's philosophy that if you produce you will play. Mitch Moreland, for all the times he disappeared last year, has been the superior first basemen this year. His average sits at (the bad band name) .311, but more importantly is OPS is over 1.0 and puts him second overall among qualifying first basemen. There is no way around it, Moreland has been better this year and he makes the team better, both offensively and defensively. Furthermore, releasing Hanley fuels the fire for the legion of "Devers to first base" supporters. The move also clears up a bit of the depth jam that the Red Sox had as well. This allows Moreland to occupy first, JD Martinez to DH or play the outfield, and opens up more at bats for Blake Swihart. This could be enough to calm the trade demands from the Swihart camp, or at the very least open up the opportunity for him to increase his value before the deadline.
All of the above reasons being valid, they are not the reason I love this move. No, I love this move for none other than David Price. As an open critic, though my fellow podcast differs in opinion, of David Price, this move helps to drive home the point that you better play. The Red Sox just ate $15 million to tell a guy to take a hike. Every player on this team should now be on pins and needles. The move is an onus to David Price to pitch like his job depends on it, because it should now. It shows that the team is not afraid to make risky moves. Something they were afraid to do last year. They would rather eat $15 mil than deal with Hanley Ramirez and I would certainly not be opposed to them relegating David Price to a bullpen role if he can't put down the Fortnite and continue to pitch well.
This move is fantastic. It shows that this is not the same team as it was last year from the President of baseball operations, to the manager, to the players. It shows that they are not afraid to make the difficult decisions. They are not going to sit there in front of the media and speak in tongues instead of giving a straight and honest answer, and most importantly they are not going to take any crap from the players. Keep it up, 2018 Red Sox, you have won me over.

But what do you think? Let me know on Twitter @BostonSportsTap @MitchyBSoT